HNRP Investigators Participated in "Neuroscience and HIV-Infection" International Conference in Russia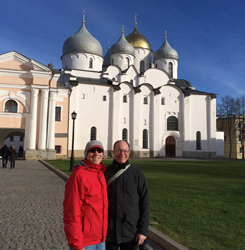 Drs. Igor Grant and Scott Letendre participated in the first neuroAIDS focused HIV meeting in Russia as plenary speakers and members of the Program Committee. Dr. Grant gave a presentation on "HIV-Associated Neurocognitive Disorders" and Dr. Letendre spoke about "Antiretroviral Drug Distribution into the CNS: Importance in HIV Disease". The conference was held October 21-22, 2013 in St. Petersburg, Russia. Click here for the meeting website.
HNRP Poster Awards at NAN
UCSD/SDSU Joint Doctoral Program in Clinical Psychology students Kaitlin Blackstone and Erica Weber were awarded student poster awards at the 33rd Annual Conference of the National Academy of Neuropsychology for their research conducted at the HNRP.  Awards are conferred by the NAN Program Committee to the top five student research projects submitted to the annual conference. Awards are based on the initial ratings of the scientific quality of the abstracts, as well as the students' ability to describe and defend their work during brief interviews with the Program Committee during the poster session.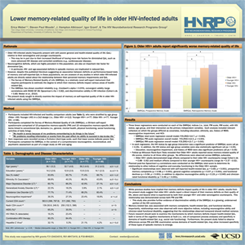 Carla Ingle Recognized by the UC San Diego Chancellor's Call to Service Program
Carla Ingle has been an integral member of the HIV Neurobehavioral Research Program for the last 11 years.  Besides facilitating the critical research of the organization in her capacity as a Project Coordinator she gives back to the community via the volunteer work she conducts during her personal time. 
She is a member of the UC San Diego Chancellor's Call to Service that challenges UC faculty and staff to contribute 50 hours or more of community service in order to promote social responsibility. She was featured in the October 2013 Volunteer 50 Newsletter for one of her many public service activities, her work with Camp Reach for the Sky, a free outdoor adventure program for children with cancer and their families. 
Click here to read the newsletter.
HNRP Presentations at NAN 2013
Researchers representing the work of multiple studies (HNRC/TMARC/CNTN) within the HIV Neurobehavioral Research Program present at the 33rd  Annual Conference of the National Academy of Neuropsychology in San Diego, California on October 16-19, 2013.  Presentations include research on prospective memory, cognitive reserve, predictors of functional impairment and death, and health literacy among individuals impacted by HIV, HCV and/or methamphetamine.