Congratulations to Dr. Raeanne Moore on Receiving a Gilead Sciences Research Scholars Program Award
Dr. Moore received a Gilead Sciences Research Scholars Program award entitled, "Remote Sensing Technology to Improve Community-Based Fall Risk Assessment and Prevention Among Older Adults Living with HIV".  Her research interests and specialization includes HIV and aging, mHealth, neurocognition and everyday functioning, and positive psychological traits.
Examples of publications:
Moore RC, Kaufmann CN, Rooney AS, Moore DJ, Eyler LT, Granholm E, Woods SP, Swendsen J, Heaton RK, Scott JC, Depp CA.  (2016). Feasibility and acceptability of Ecological Momentary Assessment of Daily Functioning among older adults with HIV. The American Journal of Geriatric Psychiatry : Official Journal of The American Association for Geriatric Psychiatry, Epub. Dec. 1. PMID: 28065496 
Moore R, Marquine M.  (2015). HIV and Aging. Sadock, Sadock and Ruiz (Eds.), Comprehensive Textbook of Psychiatry, 10th Edition.
Moore RC, Fazeli PL, Patterson TL, Depp CA, Moore DJ, Granholm E, Jeste DV, Mausbach BT.  (2015). UPSA-M: Feasibility and initial validity of a mobile application of the UCSD Performance-Based Skills Assessment. Schizophrenia Research, 164(1-3), 187-92. PMID: 25790903  PMCID: PMC4409538 
CROI 2017
The annual Conference on Retroviruses and Opportunistic Infections (CROI) occurs from February 13, 2017 to February 16, 2017, in Seattle, Washington.
Presentations and posters that HNRP affiliated investigators contributed to (available on the CROI website after the conference ends) include:
Blumenthal J, Moore D, Psaros C, Amico R, Ellorin E, Kofron R, Caplan M, Morris S, Landovitz R, Stockman J.  PrEPing for a PREP demonstration project: Understanding awareness and perspectives among women in Southern California.
Chaillon A, Gaines T, Gonzalez-Zuniga P, Stockman J, Almaza-Reyes H, Chavez J, Vera A, Patterson T, Scott B, Smith D, Strathdee S, Mehta S.  HIV transmission dynamics in Tijuana, Mexico: Real-time identification of a new transmission cluster.
Chaillon A, Gianella S, Mutlu E, Engen P, Voigt R, Keshavarzian A, Losurdo J, Lada S, Nakazawa M, Landay A.  Impact of mucosal CMV and EBV replication on enteric microbiome during HIV-infection.
Dr. Sara Gianella Highlighted in HIV/AIDS Advisor Article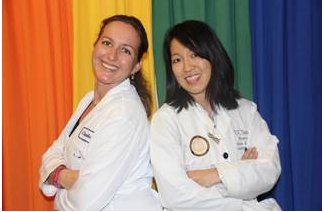 Sara Gianella, MD participated in a Q&A interview exploring sex and gender bias in the realm of HIV research and treatment. This is an important discussion as over half of all the people living with HIV infection worldwide are women.
Dr. Sara Gianella is an expert research physician affiliated with UCSD's HIV Neurobehavioral Research Program (HNRP), Anti-Viral Research Center (AVRC), and Center for Aids Research (CFAR).
Click Here to read the full article.
INS 45th Annual Meeting
HNRP affiliated investigators present at the 45th Annual Meeting of the International Neuropsychological Society, New Orleans, LA,  2/1/17- 2/4/17.
Their works personify the diversity and interdisciplinary aspects of research produced by HNRP associated scientists. These researchers attempt to explore both the mechanisms of neurocognitive dysfunction and its impacts on the individual afflicted.
Dr. Elizabeth Pasipanodya Receives a UCSD Frontiers of Innovation Scholars Program Award
Congratulations to postdoctoral fellow Elizabeth Pasipanodya, Ph.D. for receiving a UCSD Frontiers of Innovation Scholars Program (FISP) award! Her project, titled "Beyond Nomothetics: Predicting Individual Vulnerability to Antiretroviral Nonadherence and Methamphetamine Use Among Persons Living with HIV/AIDS", aims to use machine learning methods to predict periods of vulnerability to methamphetamine use and nonadherence to antiretroviral therapy.