HIV Infection in Aging Individuals the Main Perpetrator of Cognitive Decline
Recently published results from an HNRP HIV and Aging study reported that HIV infection significantly increased the risk of neurocognitive decline independent of age.  Approximately 16% of HIV+ persons regardless of age showed some cognitive decline with only about 3% of HIV- persons showing similar symptoms. The study supports the relevance of surveillance for neurocognitive decline in order to treat at an early stage.  This is important, as symptomatic cognitive decline has been linked to increased rates of depression and a reduced quality of life.
Sheppard DP, Woods SP, Bondi MW, Gilbert PE, Massman PJ, Doyle KL.  (2015). Does older age confer an increased risk of incident neurocognitive disorders among persons living with HIV disease? The Clinical Neuropsychologist, 29(5), 656-77. PMID: 26367342  PMCID: PMC4570033 
INS Meeting 2016 - Neuropsychology: Spanning the World and Disciplines
The following were posters originating from HNRP research presented at the INS Forty-Fourth Annual Meeting in Boston from 2/3/16 – 2/6/16: 
Babakhanyan I, McKenna B, Casaletto K, Heaton RK. NIH Tollbox Emotion Domain: Creation of census stratified normative data, summary scales and base rates for distressed emotional functioning.
Casaletto K, Moore D, Woods S, Heaton R. Metacognition is associated with executive dysfunction and manifest everyday functioning in HIV infection.
Doyle KL, Woods SP, Morgan EE, Cameron MV, and the HNRP Group. The effects of HIV-associated neurocognitive disorders across an integrated functional model of health literacy.
Doyle KL, Woods SP, McDonald C, Leyden K, Holden H, Morgan EE, Gilbert PE, and the HNRP Group. Verbal learning and memory profiles in HIV-associated neurocognitive disorders: A comparison with Huntington's Disease and Temporal Lobe Epilepsy.
"UC San Diego Health Joins Leading National Network Targeting Depressive Illnesses," features Igor Grant, MD.
Dr. Grant through his work as Director of the HIV Neurobehavioral Research Center Program (HNRP), which includes the California NeuroAIDS Tissue Network (CNTN), the Translational Methamphetamine AIDS Research Center (TMARC), the HIV Neurobehavioral Research Center (HNRC), the CNS HIV Antiretroviral Therapy Effects Research (CHARTER) and the University of California Center for Medicinal Cannabis Research (CMCR), has contributed to a large body of research addressing HIV neurobiology, substance abuse and treatment-resistant depression.
Now that the UC San Diego Health has been designated a member of the National Network of Depression Centers (NNDC), a consortium working to accelerate research in these areas, he as chair of the Department of Psychiatry at the University of California, San Diego School of Medicine can more directly apply research to further treatment for individuals suffering from these maladies.
Click Here to read article.
David Moore Quoted in "Insights on the Pathogenesis of Neurocognitive Impairments in the Era of Combined ART"
An article by Dr. Carole Chrvala covers the known complication of neurocognitive disorders associated with HIV infection and the possible consequences for the individual patient. As stated in the article consequences of neurocognitive disorder include reduced adherence to medical therapy, impaired ability to perform complex daily tasks, decreased quality of life, lost work productivity, increased risk of dementia, and higher rates of virologic failure.
2015 AIDS Walk & Run San Diego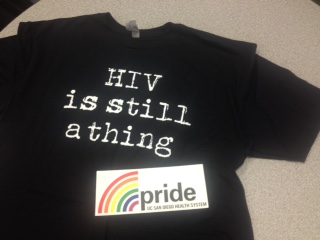 On Saturday, September 26 the HIV Neurobehavioral Research Program will join other UCSD programs participating in the 2015 AIDS Walk & Run San Diego. This continues a standing tradition of raising money for members of the community affected by HIV/AIDS.It is a way to thank our research participants who make what we do possible.