Welcome to the Newest HNRP Recruiter!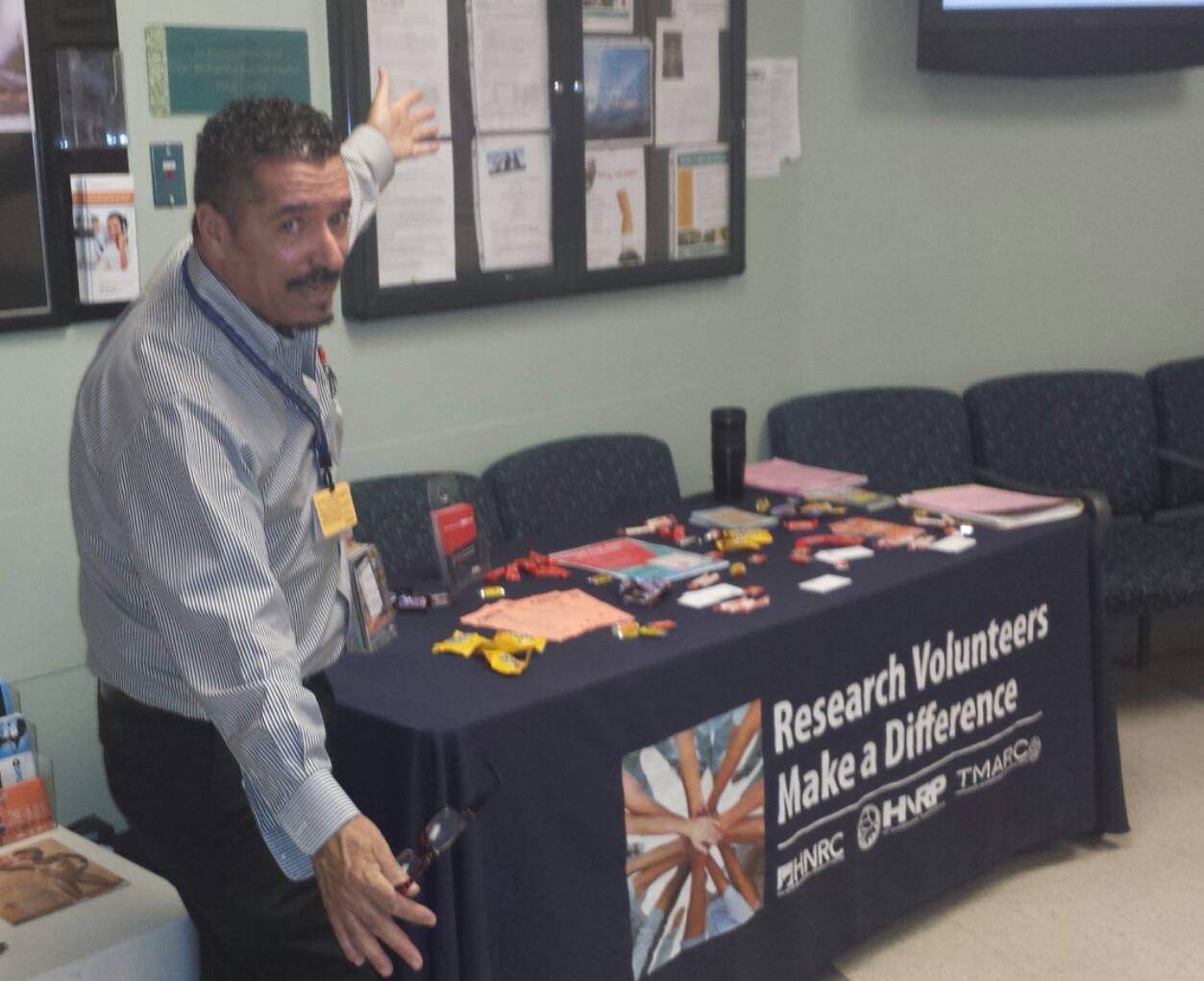 Robert Bryan has joined the study participant recruiting team at the HNRP. He brings with him extensive experience in Substance Abuse and Mental Health Counseling. Robert has been active in the community serving on multiple committees dealing with a diverse range of issues including The Faith-Based Action Coalition, Recovery Happens San Diego, Project Homeless Connect, and The Association of Community Housing Solutions.  His community service  has contributed to his success in matching participants to our research studies. Besides his professional work ethic and experience, his genuine caring demeanor has already touched the lives of the participants as well as his fellow colleagues.  

Outside of the HNRP, you are likely to find Robert in his kitchen baking sweets.  These talents are very much appreciated by many of his coworkers at the HNRP.  Robert also enjoys sailing around the San Diego Bay.  We look forward to his many years of continued success in outreach to members of the community who wish to volunteer in our studies.

Robert, you and the volunteers in our studies have made a difference! Thank you!
2016 Annual Conference on Retroviruses and Opportunistic Infections
The following were presentations/posters originating from HNRP research presented at the 2016 Annual Conference on Retroviruses and Opportunistic Infections taking place in Boston, Massachusetts from 2/22/16 – 2/25/16: 
de Oliveria MF, Chaillon A, Letendre S, Strain M, Ellis R, Morris S, Little S, Smith DM, Gianella S. (2016). Compartmentalized HIV DNA populations persist in CSF despite suppressive ART.
Evering T, St. Bernard L, Abolade J, Mohri H, Markowitz M. (2016). Relative frequency of drug resistance mutations on individual HIV-1 genomes in HAND. 
Igor Grant Received 2016 Paul Satz–International Neuropsychological Society Career Mentoring Award
The Paul Satz Award recognizes Dr. Grant's career contributions to the mentorship of doctoral students. In the award presentation it was noted that Dr. Grant has mentored 35 Ph.D.s and M.D.s, and served as the primary dissertation advisor to 23 of these as part of the UCSD/SDSU Joint Doctoral Program in Clinical Psychology.  The nominees were two former graduate students that Dr. Grant mentored, Sean Rourke, Ph.D., who is now Professor of Psychiatry at the University of Toronto and Jennifer Manly, Ph.D., Associate Professor of Neurology at Columbia University.
HIV Infection in Aging Individuals the Main Perpetrator of Cognitive Decline
Recently published results from an HNRP HIV and Aging study reported that HIV infection significantly increased the risk of neurocognitive decline independent of age.  Approximately 16% of HIV+ persons regardless of age showed some cognitive decline with only about 3% of HIV- persons showing similar symptoms. The study supports the relevance of surveillance for neurocognitive decline in order to treat at an early stage.  This is important, as symptomatic cognitive decline has been linked to increased rates of depression and a reduced quality of life.
Sheppard DP, Woods SP, Bondi MW, Gilbert PE, Massman PJ, Doyle KL.  (2015). Does older age confer an increased risk of incident neurocognitive disorders among persons living with HIV disease? The Clinical Neuropsychologist, 29(5), 656-77. PMID: 26367342  PMCID: PMC4570033 
INS Meeting 2016 - Neuropsychology: Spanning the World and Disciplines
The following were posters originating from HNRP research presented at the INS Forty-Fourth Annual Meeting in Boston from 2/3/16 – 2/6/16: 
Babakhanyan I, McKenna B, Casaletto K, Heaton RK. NIH Tollbox Emotion Domain: Creation of census stratified normative data, summary scales and base rates for distressed emotional functioning.
Casaletto K, Moore D, Woods S, Heaton R. Metacognition is associated with executive dysfunction and manifest everyday functioning in HIV infection.
Doyle KL, Woods SP, Morgan EE, Cameron MV, and the HNRP Group. The effects of HIV-associated neurocognitive disorders across an integrated functional model of health literacy.
Doyle KL, Woods SP, McDonald C, Leyden K, Holden H, Morgan EE, Gilbert PE, and the HNRP Group. Verbal learning and memory profiles in HIV-associated neurocognitive disorders: A comparison with Huntington's Disease and Temporal Lobe Epilepsy.