Study Shows that HIV Infection Contributes to Pre-Mature Aging
A study published in Molecular Cell (Methylome-wide Analysis of Chronic HIV Infection Reveals Five-Year Increase in Biological Age and Epigenetic Targeting of HLA) reports that HIV infection led to an average advance in biological aging of 4.9 years that correlates with an increased risk of mortality of 19 percent. Samples collected in the HNRP associated CNS Antiretroviral Therapy Effects Research (CHARTER) study were analyzed for epigenetic changes.
HNRP Investigator Collaborates on PrEP study for Transgender Persons
Dr. David Moore works with the AVRC to conduct focus groups including transgender persons as part of his study "Electronic Reminders to Improve Adherence Among HIV+ Persons".
The purpose of these focus groups is to gather information to be used to develop reminders salient to specific groups, including women and transgender persons, that are affected by HIV and taking Pre-exposure Prophylaxis (PrEP).  The reminders will to be sent to individuals via a portable electronic device (e.g., cellular phone) for the purpose of improving adherence to medications.
Welcome to the Newest HNRP Recruiter!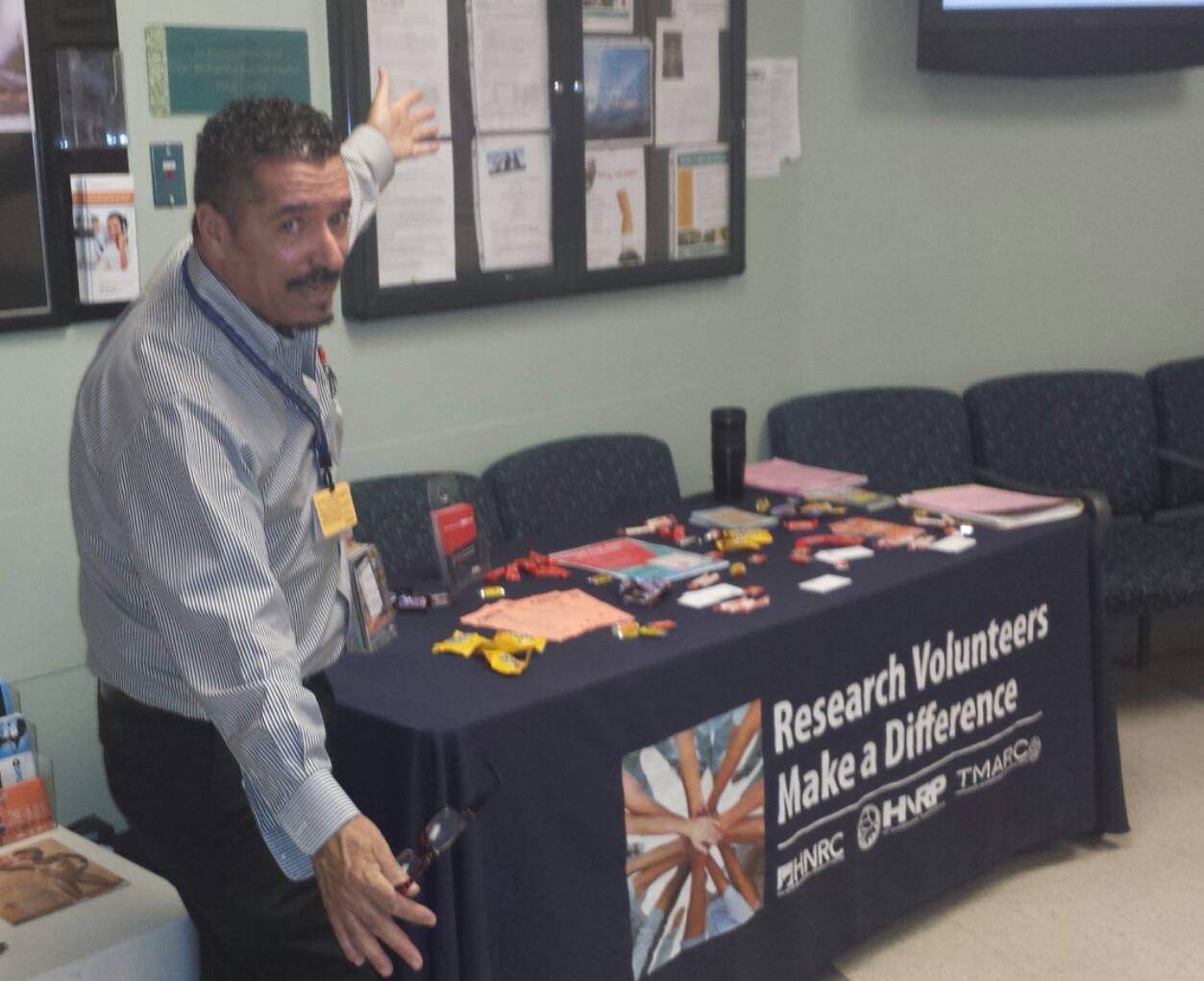 Robert Bryan has joined the study participant recruiting team at the HNRP. He brings with him extensive experience in Substance Abuse and Mental Health Counseling. Robert has been active in the community serving on multiple committees dealing with a diverse range of issues including The Faith-Based Action Coalition, Recovery Happens San Diego, Project Homeless Connect, and The Association of Community Housing Solutions.  His community service  has contributed to his success in matching participants to our research studies. Besides his professional work ethic and experience, his genuine caring demeanor has already touched the lives of the participants as well as his fellow colleagues.  

Outside of the HNRP, you are likely to find Robert in his kitchen baking sweets.  These talents are very much appreciated by many of his coworkers at the HNRP.  Robert also enjoys sailing around the San Diego Bay.  We look forward to his many years of continued success in outreach to members of the community who wish to volunteer in our studies.

Robert, you and the volunteers in our studies have made a difference! Thank you!
2016 Annual Conference on Retroviruses and Opportunistic Infections
The following were presentations/posters originating from HNRP research presented at the 2016 Annual Conference on Retroviruses and Opportunistic Infections taking place in Boston, Massachusetts from 2/22/16 – 2/25/16: 
de Oliveria MF, Chaillon A, Letendre S, Strain M, Ellis R, Morris S, Little S, Smith DM, Gianella S. (2016). Compartmentalized HIV DNA populations persist in CSF despite suppressive ART.
Evering T, St. Bernard L, Abolade J, Mohri H, Markowitz M. (2016). Relative frequency of drug resistance mutations on individual HIV-1 genomes in HAND. 
Igor Grant Received 2016 Paul Satz–International Neuropsychological Society Career Mentoring Award
The Paul Satz Award recognizes Dr. Grant's career contributions to the mentorship of doctoral students. In the award presentation it was noted that Dr. Grant has mentored 35 Ph.D.s and M.D.s, and served as the primary dissertation advisor to 23 of these as part of the UCSD/SDSU Joint Doctoral Program in Clinical Psychology.  The nominees were two former graduate students that Dr. Grant mentored, Sean Rourke, Ph.D., who is now Professor of Psychiatry at the University of Toronto and Jennifer Manly, Ph.D., Associate Professor of Neurology at Columbia University.