Participant Resources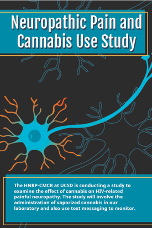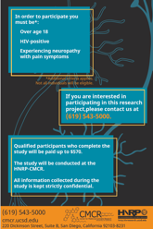 Neuropathic Pain and Cannabis Use Study
Status: Enrolling
Summary:
The HNRP-CMCR at UCSD is conducting a study to examine the effect of cannabis on HIV-related painful neuropathy. The study will involve the administration of vaporized cannabis in our laboratory and also use text messaging to monitor.
In order to participate you must be*:
Over age 18
HIV-positive
Experiencing neuropathy with pain symptoms.
For further details regarding this study, or other studies, please call (619) 543-5000 and ask to speak with a recruiter.
*Not all individuals are eligible to participate.
All information collected is kept strictly confidential.
This study has been posted on clinicaltrials.gov. Click here to access this posting.